In the global market, there are two many different styles of packaging for cosmetics.Some are normal which are hard to attract people to buy,some are special and luxury which are easy to grasp consumer's eyes.So to customize a best quality cosmetic packaging is very important to improve your brand image.Guangzhou Huaisheng Packaging is a professional cosmetic gift box supplier and can provide you creative new solutions for your cosmetic packaging.Today we will introduce you one collapsible paper cosmetic gift box.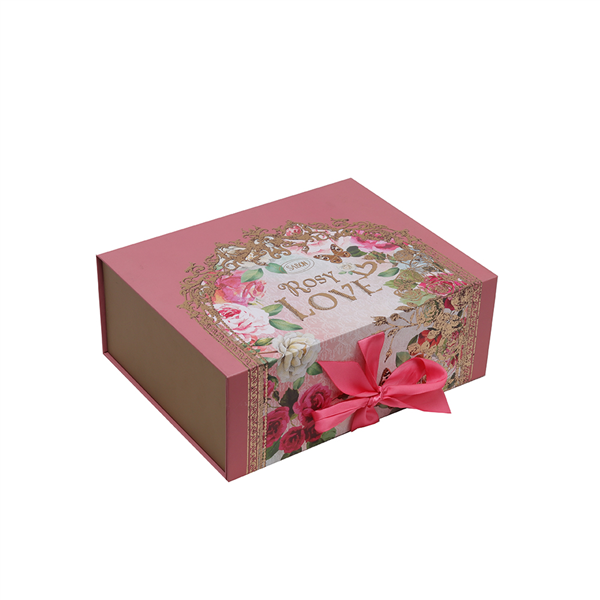 This rigid folding paper box is made of 157gsm art paper+157gsm art paper laminated on 2mm grey board, with two pieces of magnets to close the flap and two pieces of ribbons to make decoration. Inside the box, the client also requested the glue on each of the corner to make it assembled.See the sample picture of the skincare box when assembled.
First let's see the outside and inside lid printing of this gift box, it has many colors on the wrapping.The most red part is kind of pantone color, in the middle of the box,there are full colors.So actually, we called it 5C printing. The bottom and side of the box is printed another pantone color, and it is metal gold pantone color which can make the printing filled with a sense of shine.So it is a little expensive than normal ink. This kind of printing is very complex and hard to print, so it is kind of test for a gift box factory.When the printing machine is in bad condition or the capital is in bad skills,there will be much color difference between artwork and real sample.And for those brand companies who are strict with the color and box quality, they can not accept that difference.That is also what we care when printing such kind of packaging boxes.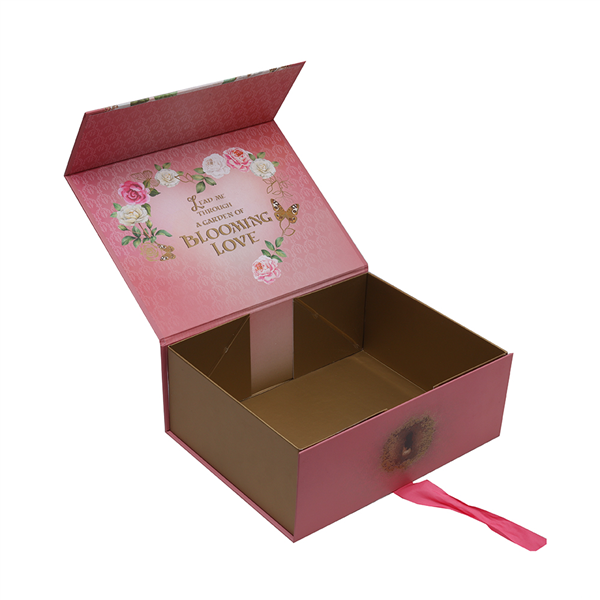 It is not hard to see on the surface of the cosmetic gift box, there is gold foil stamped.And it is not the whole part, but some parts need to leave some gaps.That really need high skills to all the fold foil stamped in the right position.What's more ,the foldable gift box makes matte lamination both inside and outside to protect the printing from being scratched.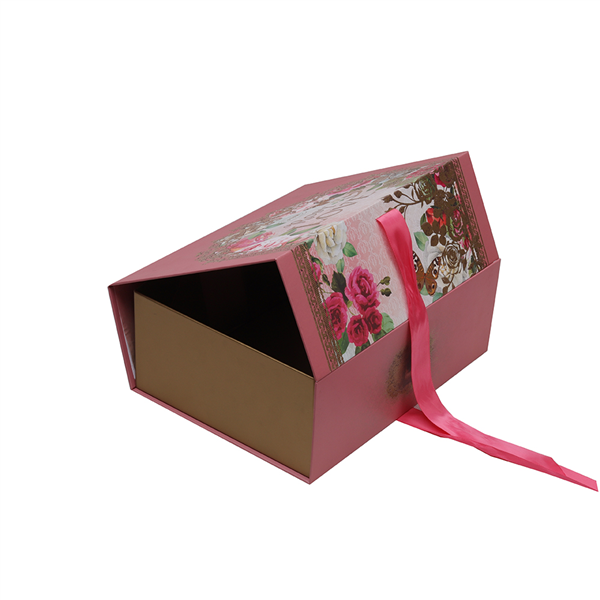 Of course the most time-consuming part is handmade work.But today we will not discuss how to handmade this folding paper box, if you have any interest, you can come to our factory for a visit.