Collapsible paper boxes have become popular because this rigid box combines the advantage of rigid boxes and folding boxes into one package--strong construction, elegant looking. Luxurious feeling, shipping flat to save freight, considered a high-end packaging solution.And now,we have a new style folding box which don't need stick to fix the box,only the cardboard,see the video to know it.
The collapsible paper box is the favorite rigid box style for clients in North America, Europe and Australia. The shipping cost of the rigid box is always a big concern for our clients abroad due to the big volume. One benefit is that the box can be flat shipped. When the paper box is folded, then the total volume of the product will be much less to reduce the warehouse and freight cost. The other benefit is the easy assembling. The workers can set up the rigid box easily to place the product.
The folding gift box usually costs more than the ordinary detachable lid paper box, because a lot more handicraft is involved in the box making process. But when the shipping cost is taken into consideration, the total cost will be much less.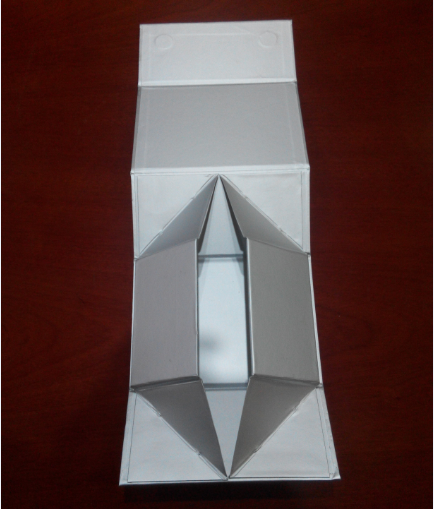 Usually, the collapsible gift box has 2 pieces of magnets on the front panel for the box seal or closure. You can also plus a ribbon to decorate the rigid box.
The foldable rigid boxes in the picture below show you how they look and assembled.These boxes can be unfolded to a flat sheet for the shipping. When the boxes are delivered to the production line, it can be easily assembled for the product packaging. It is a very popular box for the cosmetic and clothing packaging.