To be honest, it is so hard to see some clients will customize rigid paper packaging for their dental tools packaging,because the tools always be packed with some plastic boxes. But recently, we met a client who has this demand for his new packaging for dental tools.
He chose one magnetic gift box style from all the gift boxes shapes with a large size to hold a small size box. See the sample box below.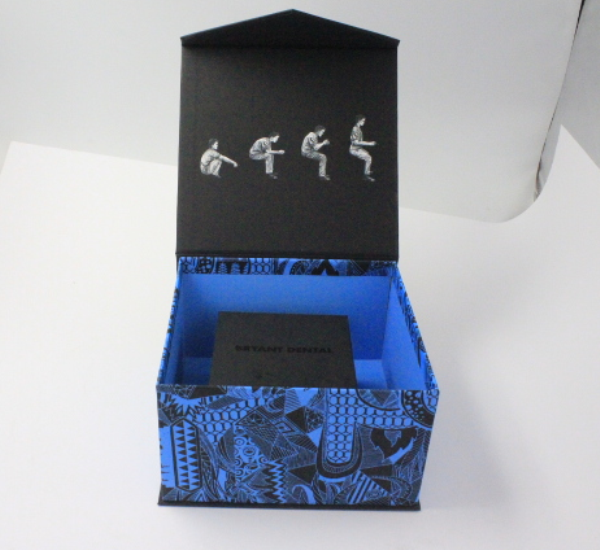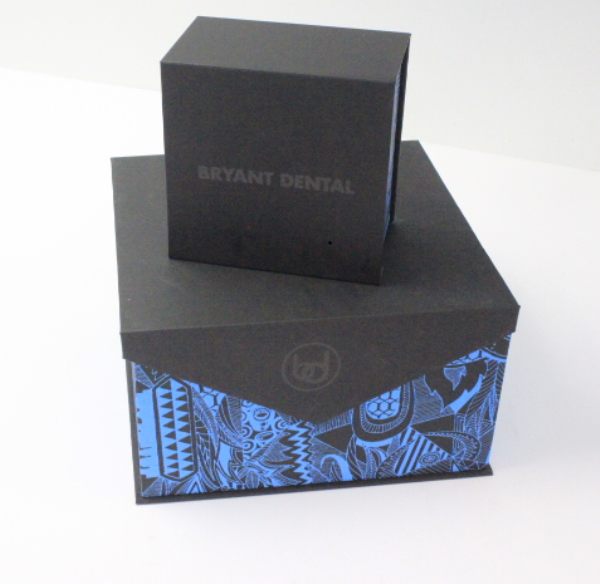 The box folding part is made of black card laminated on 2mm grey board with black foil logo in the center. As it just one black color, so use the black fancy paper,no need to make printing which can save printing cost. And the box part on the folding part is made of 157gsm art paper laminated on 2mm grey board. Because there need to print pantone and CMYK on it, use art paper will be printed more fresh color on it.And this part should be make matte or gloss lamination to protect its ink from being damaged.
Unlike the normal magnetic gift boxes we see on the market, the closure is a triangle shape which give the whole box a sense of creative designing.The idea also comes with one of our sample jewelry box that made for another client. And compared with the normal magnetic box, this shape will make the magnet more tighten closed.So it will never has the problem of not closed well.
So for a high quality bespoke paper box making,what should be considered?
1. Material
It is generally made of inexpensive materials that are suitable for the packaged goods, yellow plate paper, kraft paper, paperboard, white paper, etc. are used as printing materials, and high-demanding materials are available. Paper, printing inks should also be selected according to the packaging of light-resistant, wear-resistant, oil-resistant, drug-resistant, non-toxic ink.
2. Plate making and printing
Use letterpress, lithography, photogravure, flexo printing. Now mainly lithography, letterpress printing can be printed with good results, bright colors, shiny products, but the plate making process is complicated, not as simple as lithographic printing. Spray dust during printing to prevent dirt on the back.
3. surface processing
According to needs, it can be coated with polyethylene, paste surface film, wax coating, foil pressing, embossing and other processes, but not all products must be surface-processed.
4. die-cutting plate making
A preferred method of plate-making a die cut is to use a plywood to make a die cut sheet. The pattern of the level box is first transferred to the plywood, and the jig is saw along the tangent line and the fold line with a jigsaw, and then the die is put again.