Custom Hat Box for Flowers: A Blend of Elegance and Beauty
In the realm of flower presentation, our flower hat box collection stands as a symbol of elegance and beauty. These boxes, designed to store and present flowers, are more than just containers. They embody the feelings that come with the flowers they hold. Perfect for special occasions, our exquisite roses in a box are more than just a gift; they are a statement of love, appreciation, and thoughtfulness.
Craftsmanship at Its Best
Each of our boxes is a testament to the meticulous craftsmanship that goes into their creation. Handmade from rigid solid boards, they are covered in high-quality paper or material, ensuring a durable and visually appealing product. The attention to detail doesn't stop there. Our suede-covered hat boxes, with their lovely texture and look, are a testament to the superior quality that can only be achieved through manual production.
Efficient Design and Customization
Designed with efficiency in mind, our flower packaging boxes are size-wise crafted to fit inside each other. This not only reduces delivery and storage costs but also offers versatility in use. While we have standard sizes, we also cater to custom size requirements to meet our customers' diverse needs.
Our range isn't limited to just round boxes. We also cater to florists with a variety of shapes including oval, square, and even hexagonal hat boxes. Each box can be made with or without a logo, depending on your preference.
Personalized for Your Brand
To make your flower hat box genuinely unique, we offer customization options. Whether it's your logo or your business name, we can add it to the box, lid, side, or everywhere. The choice is yours. This feature allows you to not only present your flowers in a stylish manner but also to promote your brand in a subtle, yet effective way.
Our custom hat box for flowers is more than just a container. It's a blend of elegance, beauty, and quality craftsmanship. It's a tool for brand promotion and a symbol of the special occasions it's meant to celebrate. Choose our flower hat box collection, and let your flowers speak volumes about your brand and the sentiments they represent.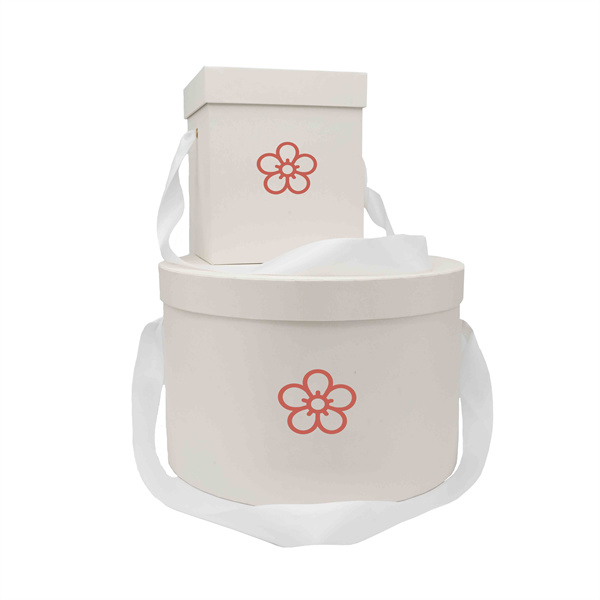 How to customize your hat boxes for flower?
Step 1: Choose a gift box style for your flowers
There are normally four styles of custom flower boxes for choice. Based on your products packaging needs and promoting purposes, pick one fittest or ask for our professional advice:
Step 2: Get an idea of your whole box design
To get a rough idea of your flower boxes is very important for the beginning. You know what color to print on, where to put your logo, need ribbon or not.
We can provide professional flower box design service for you depending on your requirement.
Step 3: Select finishing for your custom logo boxes
Plentiful finishing, like glossy / matte lamination, embossed / debossed, gold / silver hot stamping, UV coating, glittering, etc., can be applied to custom design/logo to make your flower gift packaging outstanding. Want to see the effect of each finishing, you can contact us by email directly for more pictures.
Step 4: Confirm order quantity and get a free hat boxes quote from us.