A custom embossed packaging box is an exquisite solution for presenting luxury gifts or products. With its sleek design, easy folding mechanism, attention-grabbing embossing, and ample interior space, this packaging option offers both practicality and visual appeal.
Handle Design:
One of the standout features of the magnetic gift box is its fixed grosgrain ribbon handle. This elegant addition not only adds a touch of sophistication but also enhances the convenience factor. The sturdy handle allows for easy transportation and gives recipients a comfortable grip when carrying their precious gift. Its black color complements the overall aesthetics while exuding an air of elegance and refinement.
Easy Folding:
Gone are the days of struggling with complicated assembly instructions! Our foldable magnetic box boasts a fold-flat construction that can be effortlessly assembled into a robust and luxurious gift box within moments. This user-friendly feature saves time during preparation without compromising on quality or durability. Seamlessly transform flat sheets into an attractive presentation piece–it's as simple as that!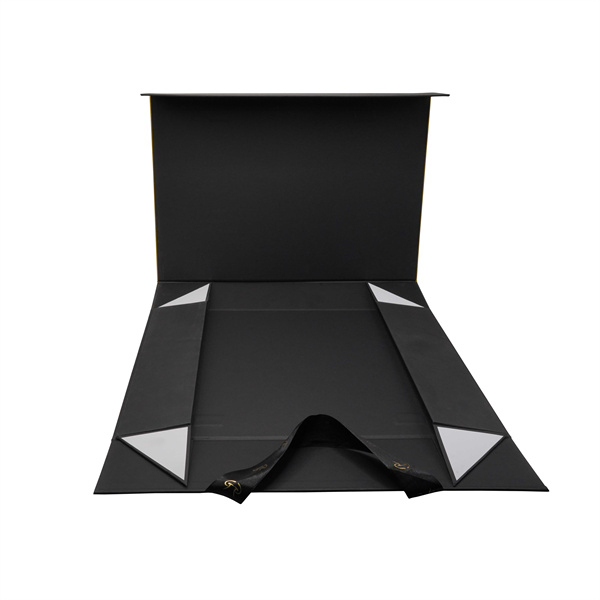 Embossing:
To create an unforgettable unboxing experience, this box utilizes embossing techniques to highlight brand logos or designs on its exterior surface. By engaging customers' sense of touch, this tactile element elevates the perceived value and creates a truly luxurious feel. The raised patterns add depth and texture to the box while leaving a lasting impression on anyone who encounters it.
Large Inside Space:
When it comes to accommodating various products or larger-sized gifts, size matters! The generous interior space offered by these boxes ensures there's room for multiple items while maintaining an organized presentation. Furthermore, customization options allow businesses to tailor the box size and shape according to their specific requirements. Whether you're packaging a collection of beauty products or special items, this packaging solution has got you covered.
Versatility:
The embossed magnetic box is designed to cater to a wide range of industries and occasions. Its sleek appearance makes it suitable for presenting high-end beauty products, adding an extra touch of elegance that complements the luxurious nature of these items. Luxury and men's gifts find their perfect match in this sophisticated packaging option, ensuring a memorable unboxing experience.
Conclusion:
This embossed packaging box offers a premium gift presentation solution for various industries. The customization options further enhance its versatility while maintaining the overall sense of luxury. Whether used for beauty products, clothing, or gifts-this packaging option guarantees a remarkable unboxing experience that will leave recipients impressed and delighted.