Sending flowers has become a fashionable and practical form of etiquette nowadays. Just like different kinds of flowers have different meanings, flower gift packaging has different styles and sizes based on its using occasions and quantities. Compared with acrylic flower boxes, paper flower boxes are more recyclable, variously shaped, and luxury designed. So as a flower gift box factory, we suggest our clients customize paper packaging rather than acrylic packaging. What are the choices for flower rose packaging?
1. Single layer paper wrapping flower packaging

In the past years,people tended to pack the roses with just several pieces of wrapping paper to save the cost. Flowers are always considered disposable products and can not keep them alive for a long time. These kinds of flower packaging are still used in some less formal occasions or some wholesale flower packaging shops but with an updated look. They have no brand request and are always decorated with a sticker or ribbon.
2. Round hat flower box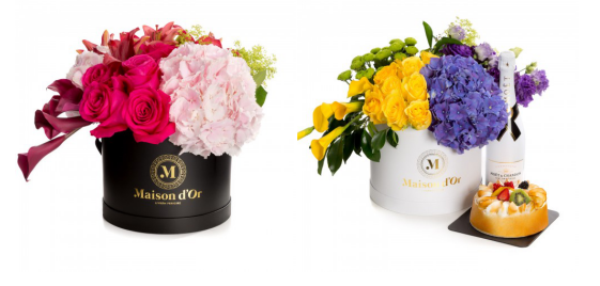 With the improvement of people's living standards, people are going after more high-quality life. They are willing to pay some more cost for buying roses packed with a luxury gift box on some important occasions. Round hat flower box is the most commonly used flower gift packaging recently. Especially the white and black color boxes with gold foil logo.Not too fancy, but looks upscale.
3. Square flower box with a lid or with a drawer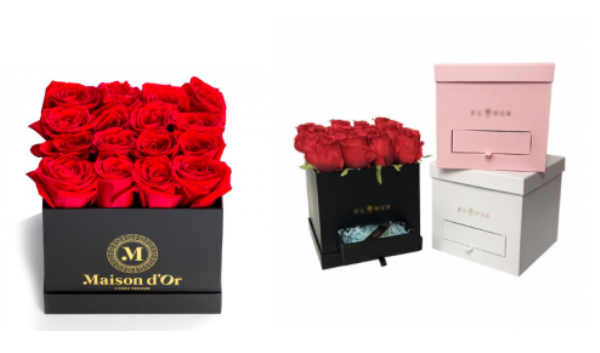 A flower delivery box in a square shape is suited for packing some roses in one series, these roses are in the same length, same color, and same variety. When you happened to have a bakery or cookie shop or restaurant, it is a nice try to make a sliding drawer along with the square box to pack both your flowers and cookies. I am sure your customers will keep a special eye on your brand or your service.
4. Heart-shaped flower packaging box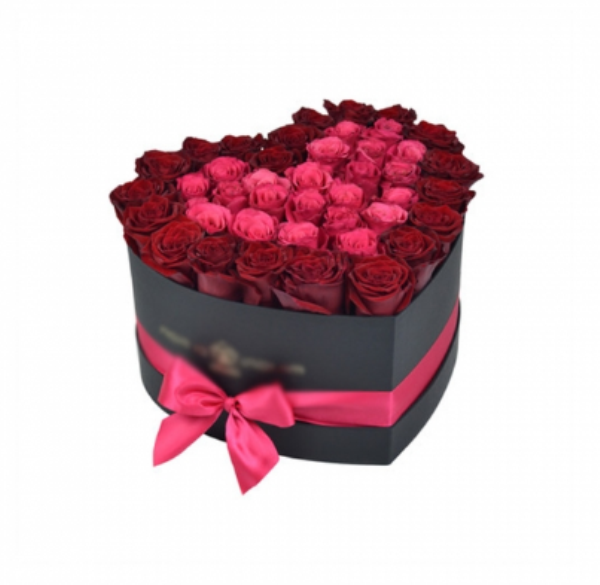 As the heart shape always stands for love, they do not quite customize by flower shop owners, for they are often sold in less quantity but with a high making cost. However, people are still willing to buy them for wedding purposes or Valentine's gifts. They are as popular as heart-shaped chocolate boxes on these two occasions.
5. Rectangular flower packaging for long roses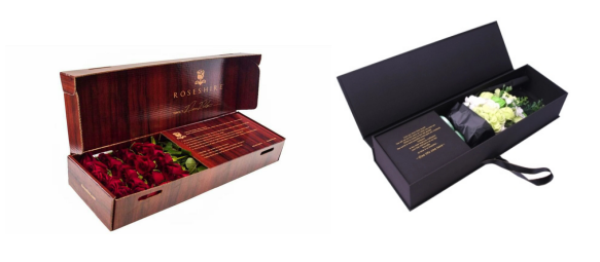 No matter whether these rectangular paper boxes are made of corrugated materials or rigid cardboard material, they are both used for some long roses packaging. Without cutting off all the stems of the roses, they can be kept alive for more days. As all the custom flower boxes we made can be water-proof, you can put some test tubes with water inside the box to keep the flowers fresh when shipping.