The gift box such as personalised packaging boxes is a practical gift package with the main purpose of expressing love and affection for friends and relatives, and is an extension of a functional social need for packaging.Based on this purpose,our willing is to make everyone in the world can have a chance to use our packaging in someday.As a gift box factory, our main mission is to increase products value for our clients by creating high quality gift packaging boxes.
Take this pen gift box we made in the last year for example.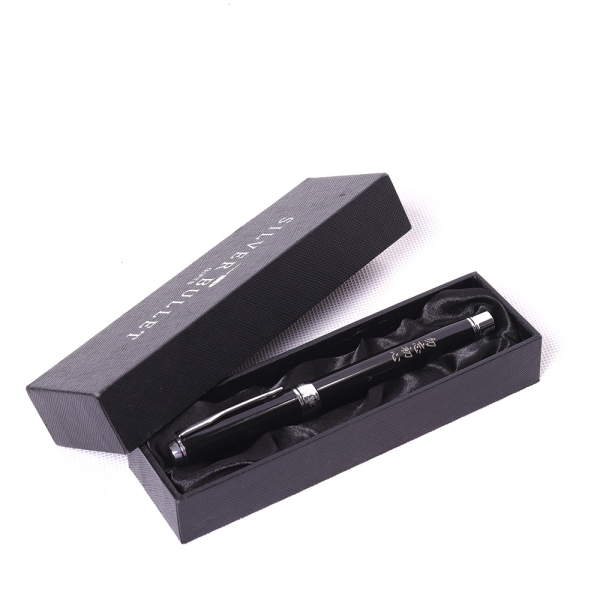 This paper pen box is made of black texture paper laminated on 2mm grey board which is luxury and rigid looking. The inside of the box uses foam and smooth black satin for its insert.It has good touch feeling when you pick out the pen from the box. The logo outside finish with sliver foil stamping which is shiny on the texture black paper. The whole box is a base and lid style with perfect handcraft making on each detail, such as the tightness between base and lid, the glue and the clear of the surface paper.
It is no hard to imaging that if the client just sell his pens without any packaging, they can be sold at a lower price and his product would be thought as a no-brand products or low-level products.But if he wants to enhance his brand image or awareness, he must try something new-to make some new creative packaging for his pens,such as a rigid pen packaging box.At the beginning, he may spend a lot on this project but without seeing any profit, but in the end, in this way, he will build his own brand which other competitors do not have; he can sell his pens in a higher price with a higher profit just because of his efforts in the production packaging. Consumers are willing to buy his products again and again for his brand effect and his logo can be easily remembered by customers because of the customized logo gift boxes he used.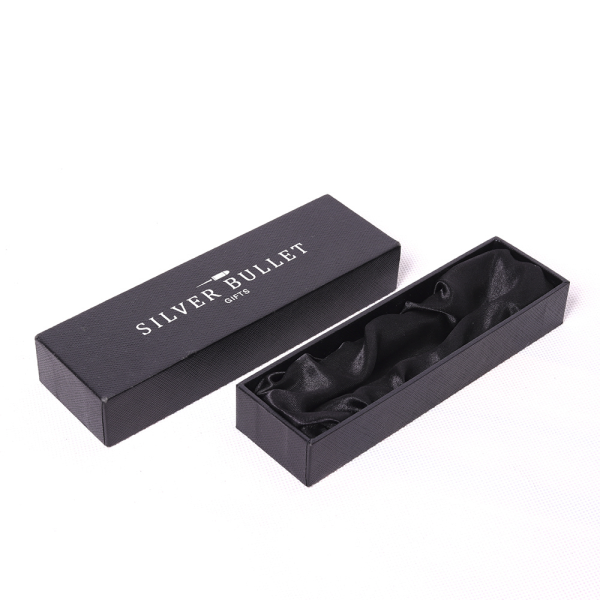 What would be attractive when a normal pen packed with such a luxury black gift box?You can take a consideration of all cost and value,and make a final decision in your mind. I think the answer is obvious for company leaders who always think interest from the long term.