As we all know folding gift boxes are the most popular style among rigid paper boxes styles.Because they can be folded when shipping in order to save the expensive shipping cost from one country to another country. Especially for some large product packaging, collapsible paper box is really the best choice considering the whole cost.Recently, we just made huge foldable gift boxes for one of our clients, they ordered them for their wedding dress packaging.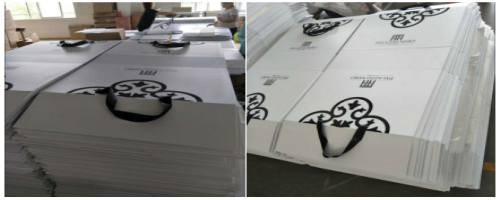 It is a white folding box with black printing outside and also with a ribbon handle to pick the boxes.It is also the largest folding paper box we have even made.The whole length when unfolded spreads 1.7m.It is amazing right? When doing the handmade work, one box need two people to carry it.
This custom rigid box is made of 157gsm art paper laminated with 2.5mm grey board. For its large size, we also used two pieces of strong magnets in order to close it smoothly. What is the most time-consuming work is to wearing the ribbon handles.First we need to cut four holes on the board with knife, then put the ribbon across the board, after that we glue the ribbons.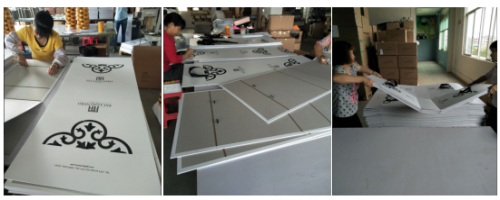 For a custom gift box supplier, the most important thing is to provide clients with competitive price and high quality products.We are a gift box factory who has two layers of workshop for handmade department, with total 35-50 experienced craft workers. To make this kind of foldable gift box,we have two advanced automatic forming machines to wrapping the surface paper on to the paper board.So this is our advantage to promise our output and delivery time. For handmade parts,we care about every details, such as brushing the glue on the surface of the boxes to keep them clean before shipping.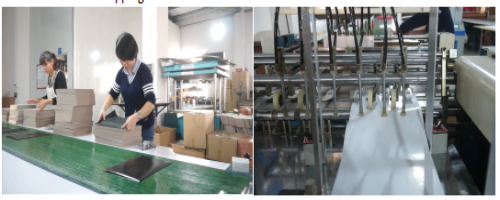 The collapsible paper box is a little expensive when compared with other rigid paper boxes. But considering the whole products cost as well as the shipping cost, you will find, they actually are cheaper than other custom paper boxes.So you have to take care of your budget and your design to see which one is the best choice for you to customize your product packaging. No matter which style you choose, they can be made in our factory as your expected or imaged.