Paper packaging materials have the characteristics of environmental protection, recycling, cost saving, etc. With the increasing international environmental protection requirements for custom made paper box packaging materials, paper packaging materials are the preferred packaging materials.In addition to environmental protection,paper packaging materials have another one characteristic that it can quickly achieve the goal of rapid logistics cost savings through the commodity inspection threshold. And they are protective enough during long transport.
Paper gift packaging is most commonly used in the nowadays for the following advantages:
1.Environmental protection, recyclable, able to reuse, save resources.
Unlike plastic packaging, paper box packaging are 100% recyclable and will reduc e no waste to pollute our global.
2.Paper packaging is lightweight, portable, and takes up little space when transported, so the cost is not very high.
Compared with wood or MDF packaging, paper packaging is more lighter.
3.Various shapes of packaging, beautiful appearance, can promote the sale of goods.
Paper packaging can be die cut or folded into any shape, it is flexible for different products packaging. What's more, you can printed any design or colors on the paper materials which good for your promotion.
4.Short production cycle, which is high efficiency.
Usually, the paper has enough stock.So it is easy to order material. The production time often controls within 20-25 days for one large order.
Take this custom made paper box set for example: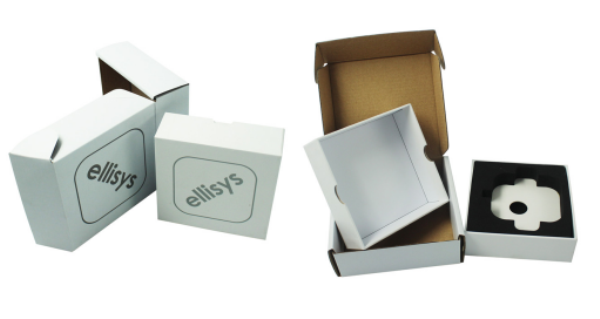 It is made up of two parts, one is a rigid paper box with lid style to pack inside, the outer box is a corrugated mailing box for shipping and protective purpose.Actually the inside box has die cut EVA and paperboard to protect the electronic products.They will not be damaged even for shipping. But in order to prevent the rigid box from being broken that the customer can get a luxury gift packaging with final product, buyers will choose to make a outer packaging box for protection. This outer box is always made of corrugated materials or carton materials because of their strong crushing resistance. They are impossible to be broken during shipping. Both boxes can be customized with personalized logo or design to make them perfect matching.
If you just have this request for your products packaging,Guangzhou Huaisheng Packaging will be your best supplier, as we can make any kinds of custom made paper boxes based on your special demand, no matter for real shop business online business.