For the most luxurious looking, magnetic gift box ranks the top three. That's why more and more clients request to make such kind of bespoke paper box. Today we will introduce one sample box for you to know how they look and be made.
Material:
Usually, the book-shaped box is made of 157gsm art paper laminated on 1200gsm grey board with magnets to close. But this sample box is a little different. The outside surface paper is made of fancy paper which itself has texture and marble printing on it, so it makes the gift box more natural. Inside material uses creamy white flannel to laminate in order to get a soft touch feeling and high-end branding. Our factory can provide thousands of paper materials for choice as well as other surface material, such as velvet.
Finish:
The outside shell is marble looking, but the inner box is painted red with matte lamination to separate it from outside surface. The top lid with a gold foil logo on the central and a square circle foil to decorate the whole box to make it look like a book.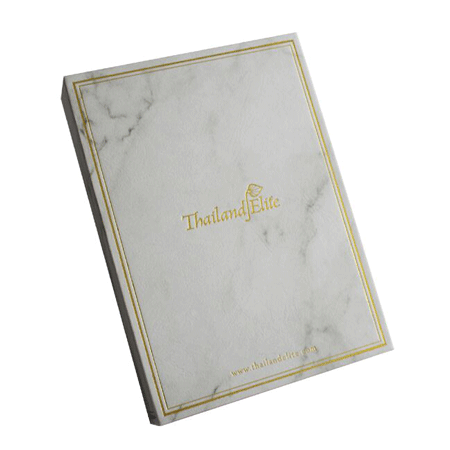 Inner tray:
The inner tray is made of thin grey board laminated with the same flannel. It has two layers, the lower layer is used for book packaging and the upper layer is used for credit card packaging or some gift cards packaging. It is very important to make the die cut with two pieces of finger button so the client can pick up the card so easily. Guangzhou Huaisheng Packaging Co.,Ltd makes any customized inserts for clients with different materials, such as paper, foam, EVA, satin and so on.
Advantage:
The magnetic gift box made in our company has the advantages of strong closing with strong magnets, exquisite handcraft work on each detail, neat and tidy looking, long service life. Of course the most important, we not only provide high-quality paper gift boxes but also offer competitive price compared with other paper gift packaging suppliers. Below is the video to show how this whole gift box looks like. Hope you will like it.