According to our company tradition,we will celebrate birthday for each client in our factory, and every employee can enjoy a birthday bonus from boss. Usually we will order a cake to celebrate, but sometimes buy some fruits or make a party when time is not so limited.Today is the birthday of both Bush and Linda,so we ordered two cakes to celebrate for them,"Happy birthday to my lovely colleagues!"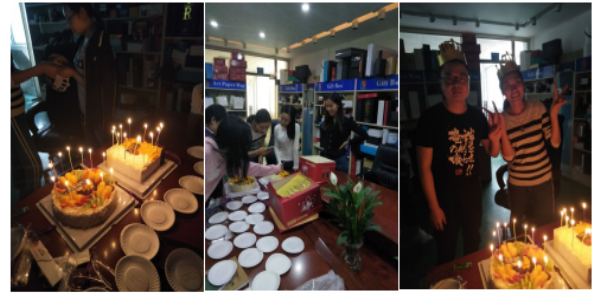 See the delicious cake, do you want to take a bite? Talking about the cake and birthday,you may think of the paper packaging boxes.Because a beautiful cake boxes or birthday gift box can attract more people to buy the products. We are a
custom gift box supplier
who manufactures different kinds of paper packaging boxes with personalized design or logo for more than 18 years.
Usually the normal styles for custom gift boxes are paper box with lid shape,drawer sliding shape,collapsible shape, magnetic shape as well as round cylinder shape and etc.. If you want your packaging boxes outstanding from the market, you can also custom some special style, such as hexagon shape box,heart shaped box or other unique styles, Only if you can imagine, we can make it into reality!Take this wine gift box for example,this is a new design for both flower gift and wine bottle packaging.
So if you have any gift box packaging request, you can trust us,we are the cost-effective gift box supplier for custom packaging.