The Round Tea Packaging Box with Paper Bag - is a perfect packaging solution for tea products that combines functionality, style, and convenience. This innovative packaging option boasts several key features that make it an ideal choice for both personal use and gifting purposes.
Strong sealing
One of the standout functions of this round tea packaging box is its strong sealing mechanism. Crafted with precision, this box ensures that your precious tea leaves remain fresh and aromatic by providing an airtight seal. The robust sealing feature not only preserves the flavor but also extends the shelf life of your favorite teas, making it an excellent choice for tea enthusiasts who value quality and freshness.
Custom options
Another notable feature of this packaging option is its custom size and shape. Designed to accommodate different quantities of tea, you can choose from various sizes depending on your needs. Whether you prefer individual servings or larger quantities, this customizable feature allows you to tailor the packaging to suit your preferences perfectly. Additionally, the round shape adds a touch of elegance and uniqueness to the overall presentation, setting it apart from traditional rectangular boxes commonly found in stores.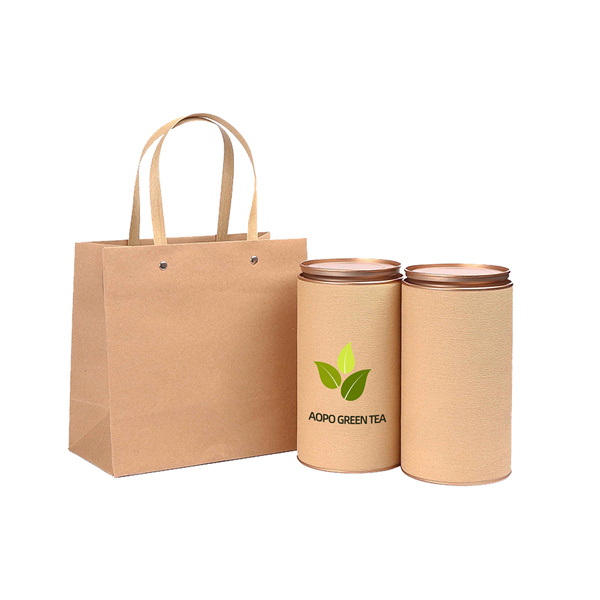 Aesthetic and practical
The round tea packaging set exudes sophistication and charm. Its sleek design makes it visually appealing.
In addition to its aesthetic appeal, the tea packaging set also prioritizes convenience. The accompanying paper bag enhances portability and adds an extra layer of protection to the box, ensuring that your tea remains intact during transit. The compact size fits comfortably into bags or backpacks without taking up excessive space, enabling tea lovers to enjoy their favorite brew anytime, anywhere.
Suitable for gift
Our versatile tea packaging solution serves as an excellent option for gifts. Whether your customers are looking to surprise a loved one or express gratitude towards a colleague or friend, presenting them with premium-quality teas packaged in this exquisite round box will undoubtedly leave a lasting impression. The elegant appearance combined with its thoughtful customization options conveys sincerity and thoughtfulness when offering these delightful blends as presents for special occasions such as birthdays, anniversaries, or holidays.
Multi usage
This packaging solution is not limited to just-tea products; it can be utilized for a variety of other purposes as well. Its adaptability allows you to store different items such as herbs, spices, or even small trinkets securely. This multi-functional aspect makes it a practical investment that offers long-term value beyond its initial purpose.
If you want to attract more customers, consider our tea packaging box with a paper bag, invest in this remarkable packaging option today, and elevate your tea business to new heights!