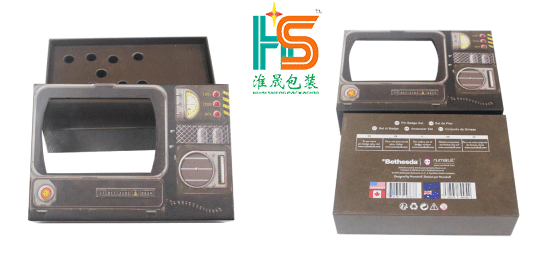 Sometimes people may think it is no worth of value to customize a gift box for some tiny products packaging. But today when you see how beautiful and elegant the pin box packaging is, you will never deny the truth that custom packaging box is as same important as any promotional products or gifts.
This custom made the paper box with lid is used for pins packaging. So all the characteristics of this small square box fit the preference of audience for pins, branding image, promotional purpose as well as the visual perception.
Classic: The design of this serious pins is made along more classic lines, so the printing elements both outside and inside are used some dark colors to show its meaning. When you see from the whole top, it just like an old TV produced in the 18th century, nostalgic and classic.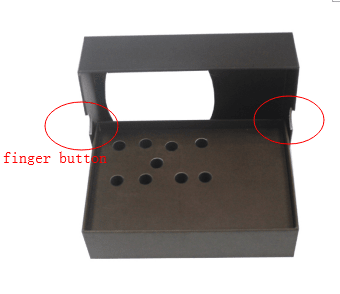 The remaining window on the top of the lid shows clearly the inside products in order to display the pins to customers. So you have to take care of the insert when you are ready to personalize such kind of window box. You have to choose some kind of top-level material, such as EVA to hold your products. Of course, the color of the insert should be matched with your outer printing. Maybe it's better to use the same background color.
Usually, for such paper box with lid, there are some differences when making about the lid. Some clients request base and lid with the same height, some request there exists a border. When making the lid to cover all the base, we will suggest our client plus a finger button, like the red mark in the below picture, to make the paper box easy open.
Guangzhou Huaisheng Packaging Co., Ltd is a custom packaging box company who can give you professional packaging suggestions for your products as well as solutions. Maybe we are not the top one supplier for gift packaging, but we will be the warmest and honest gift boxes manufacturer in the world.