Custom children's clothing packaging box
When it comes to packaging children's clothing products, it is important to choose a box that is both protective and visually appealing.
The handle design on the box makes it easy for parents or children to carry the box around, whether it be to a store or a friend's house. This feature is especially important for children's clothing products, as parents may need to transport the clothing to different locations. The handle design also adds a touch of convenience and practicality to the box.
To make the box more appealing to children, cartoon elements can be printed on the outside of the box. This can include popular cartoon characters or designs that are relevant to the product being packaged. By incorporating these elements, children are more likely to be excited about the product and may even want to keep the box as a toy or storage container.
In addition to cartoon elements, brand information can also be printed on the outside of the box. This can include the company logo, product name, and other branding elements. By including this information, the box becomes a marketing tool that promotes the brand and helps to create brand recognition.
While there is no printing on the inside of the box, this can be a cost-saving measure. However, if a more refined look is desired, printing can be added to the inside of the box as well. This can include additional branding elements or designs that complement the outside of the box.
Overall, the corrugated paper box with a handle design is an excellent choice for packaging children's clothing products. By choosing this type of box, businesses can ensure that their products are protected during transportation and storage, while also creating a positive brand image that resonates with their target audience.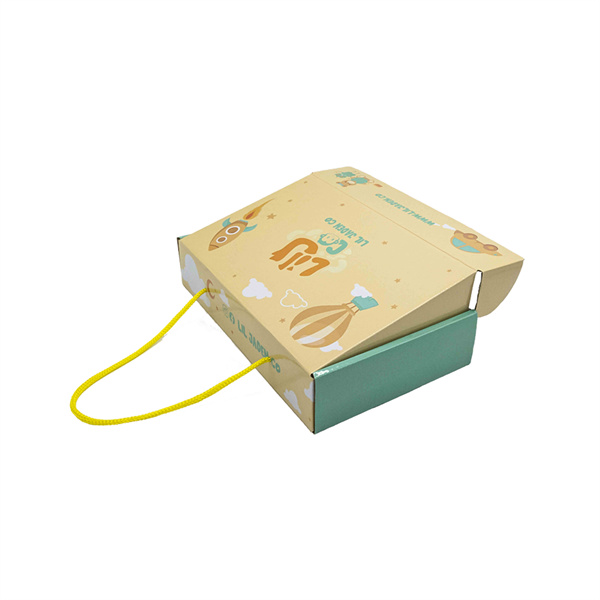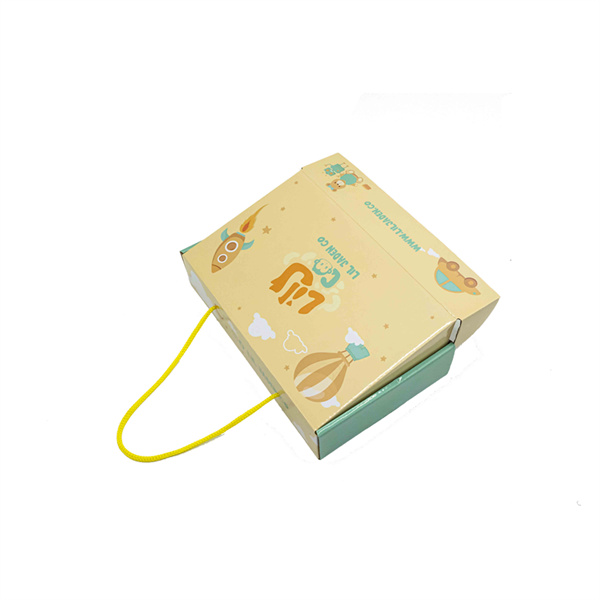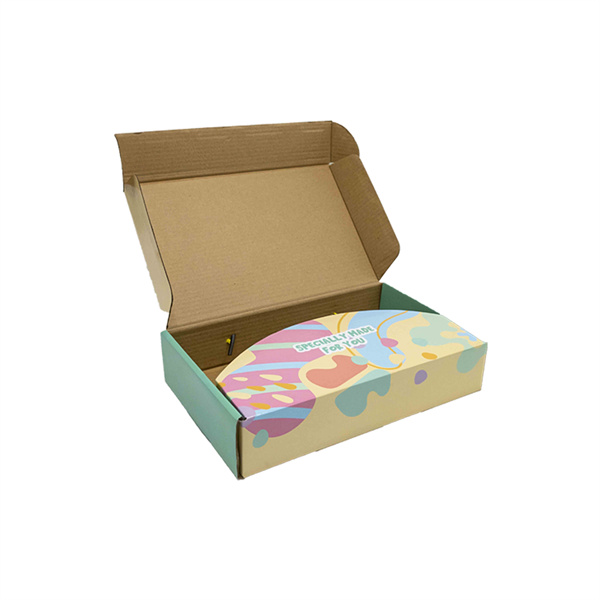 FAQs of the custom clothing packaging box
Can I custom print on the inside and outside of the box?
Yes, you can print logos, text, images whatever is outside and inside as you you like. And different printing processes can be chosen.
I Need Boxes In Different Styles And Designs. Can you give me suggestions?
As a professional packaging box manufacturer, we can make different styles in high quality, and we can provide a range of cases for your reference.
Does your company sell to individuals or only to companies?
We are a factory, and we can sell to everyone, regard of regardless of whether they are brands, e-commerce sellers, or an individual. No matter what type of customer, we will provide the best quality service.