In the world of jewelry, presentation is everything. It's not just about the sparkle of the gemstones or the luster of the gold. It's also about the allure of the packaging that encases these precious pieces. One of the most effective ways to elevate your brand and make a lasting impression on your customers is by investing in custom jewelry packaging boxes.
Customization is critical in the world of luxury. It's about creating a unique experience for your customers, one that they can't find anywhere else. A custom jewelry drawer packaging box not only provides a secure and stylish home for your jewelry pieces but also serves as a powerful marketing tool. The box, with its appealing appearance and just the right size, can be customized to reflect your brand's aesthetic and ethos. Whether you want a minimalist design or a lavish one, you can tailor your jewelry boxes to enhance your brand's image and make it more memorable.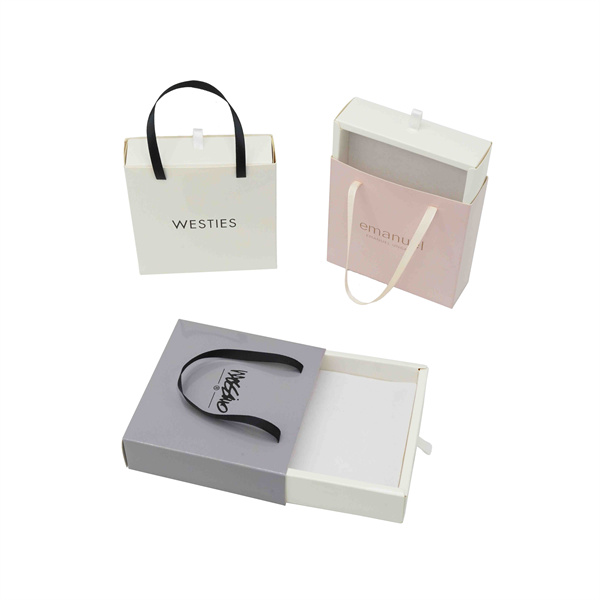 In the era of increasing environmental consciousness, sustainability has become a significant factor in consumers' purchasing decisions. As a responsible jewelry brand, you can contribute to this green movement by opting for eco-friendly packaging. Our custom jewelry boxes are made from recycled-coated paper and printed with water-based ink, making them a perfect choice for brands that value sustainability. These boxes not only reduce your carbon footprint but also send a positive message about your brand's commitment to the environment.
Custom jewelry boxes are not just for jewelry. They are versatile enough to be used for various accessories like watches, cufflinks, brooches, and more. If you are doing business with these products, this drawer box with a handle will be the ideal choice for you.
The cost-effectiveness of these custom jewelry boxes should not be underestimated. Made of coated paper, these boxes offer excellent value for money. They are durable, stylish, and affordable, making them a smart choice for both emerging and established jewelry brands. Investing in these boxes means investing in your brand's image and reputation at a lower cost.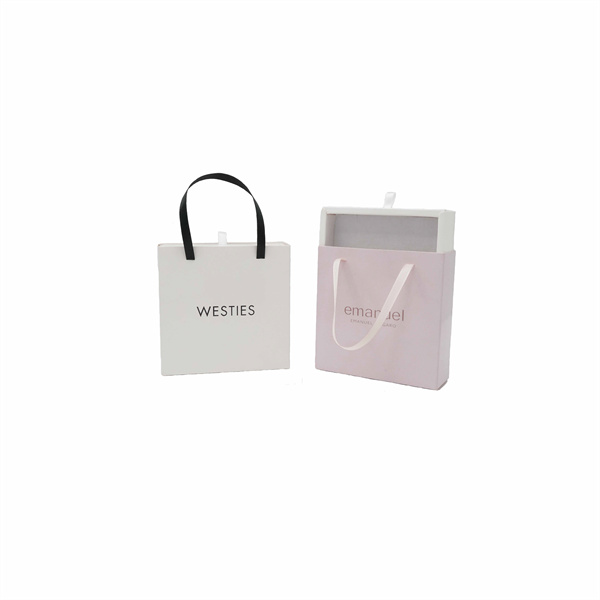 The drawer design of these boxes is not just aesthetically pleasing but also highly functional. It can be easily opened and closed, ensuring the safety and security of the jewelry pieces inside. The handle design adds to the box's usability, making it easy to carry and transport. This thoughtful design makes the boxes user-friendly and adds to the overall customer experience.
For wholesale orders, we offer a minimum order quantity of 500 units per size or design. This allows you to order in bulk, reducing your per-unit cost and maximizing your return on investment. Whether you're launching a new collection or looking to revamp your packaging, our custom jewelry drawer packaging boxes with handles are an excellent choice.
In conclusion
In conclusion, custom jewelry drawer packaging boxes offer many benefits for jewelry brands. They enhance your brand image, appeal to environmentally conscious consumers, and offer versatility, and a user-friendly design. By investing in these boxes, you're not just buying packaging. You're investing in a powerful marketing tool that can help you stand out in the crowded jewelry market.