With the intensified pressure on the industry, the majority of packaging and printing companies are also facing issues such as industrial restructuring, transformation and upgrading.How can packaging and printing companies improve the competitiveness of the packaging and printing industry? To know clearly about the trends,the foundation and goals is very important.So what are the main trends in packaging and printing industry?
1. Personalized customization and short order will gradually increase market share
Due to differences in individual needs and different consumption habits, the personalized demand for packaging printing will increase.Such as
custom gift boxes
.This new form is a new challenge to all aspects of printing, but it is also a new opportunity. In addition, the rapid development of digital printing technology has also played a role in promoting this demand.
2. Packaging function upgrade
By assigning variable information codes to packages and using electronic tags, smart tags, and new materials applications, quality safety supervision, logistics inquiries, and trace-ability can be done. Variable information codes can also make packages have unique identification cards. Integration of the Internet of Things and big data make network management possible. Intelligent packaging enables information to be transparent, helps customers understand relevant information about the goods they are shopping for, and helps companies promote and promote their products and products. With regard to the upgrade of packaging functions, many novel technologies have been applied. Such as 3D printing applied on the gift packaging boxes.
3. Innovation in packaging design
Through the automation, digitization, intelligence, and information of the paper packaging processing technology, the improvement of the packaging quality, the enhancement of functions, and the optimization of costs have been promoted to meet various packaging needs. Many packaging and printing companies have established their own design and R&D centers, and have increased investment in the design and innovation capabilities of their products, such as their structure and appearance. In our Guangzhou Huaisheng Packaging Co.,ltd, we already applied 10 patents in the new technology of making paper packaging boxes. However, we should see that Chinese companies still have a long way to go in terms of design innovation. They should strengthen exchanges with Japanese, Korean, and Chinese Taiwanese companies, and learn about their innovation mechanisms and design concepts.
4. The explosive growth of online shopping has promoted the development of logistics express delivery business, which has brought tremendous business opportunities to industries such as corrugated boxes and courier bags, and has also raised new requirements for the recycling of packaging materials.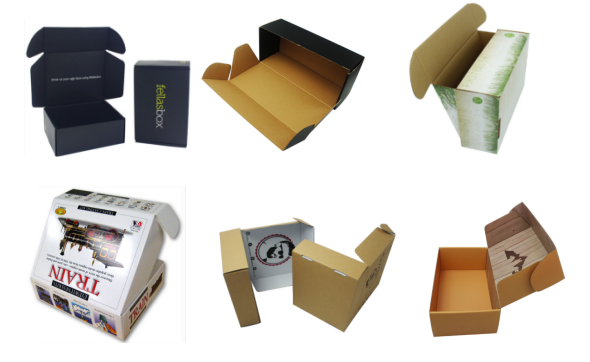 5. Green, environmental protection and sustainable development become trends
In the process of packaging and printing, wastes discharged into air, water sources and land have increasingly attracted the attention of government, society and packaging and printing operators. The standards for the discharge of pollutants have been introduced in various places. These standards and laws and regulations can help and guide packaging and printing companies to take a sustainable development path. Of course, this is not only a huge challenge for packaging and printing companies, but also creates new opportunities for their transformation and upgrading. The materials we used for rigid paper packaging are all 100% recyclable.